Some Premier League fans find the international break a distraction from their weekly obsession with their own clubs but the world;s top footballing nations are offering enough tasty fixtures this weekend to keep any real football lover happy.
Sweden v Italy
Sweden has lost just twice in its last eight games including wins against France and Portugal. Italy's form hasn't been bad either with wins over Uruguay and the Netherlands but a 3-0 defeat to Spain showed the Italians' frailties.
Italy's superb run of just one loss in nine home games means the Swedes now need a home win to have any chance of going through. It's been 60 years since the Azzurri missed out on going to the World Cup and a defeat over two legs would be a horrible way to end Gigi Buffon's international career.
Italy is the favourite but it hasn't won in Stockholm since 1912, and I don't think it will manage it this time either.
Prediction: 2-1
Belgium vs Mexico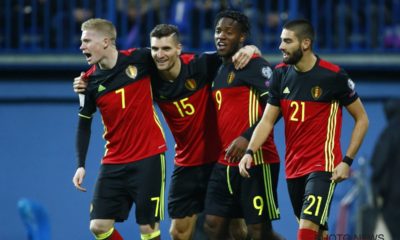 The intimidating form of Belgium (left) makes it my favourite for the World Cup and most footballing fans would rank it as the best European team at the competition along with France.
Mexico will prove a test for the Belgians and will act as a preview to what could await the star-studded home side in Russia. Despite Belgium's superb run most of its wins have come against European nations so a win for the South Americans would suggest that Europe is not as strong as people think.
Prediction: 3-2
England vs Germany
The story for England fans is always the same. We see our country dominate smaller nations, struggle against the better ones and go into big competitions with no idea where it stands.
This Germany team was in its prime a couple of years ago and although it has gained a few young stars, Joachim Low's side is not as strong as it once was.
It should prove to be an enticing game but the withdrawal of Harry Kane and Jordan Henderson won't help the chances of Gareth Southgate's side. The visitors will be keen to put on a show at Wembley and I'm expecting them to outplay England from start to finish.
Prediction: 1-3
France vs Wales
This France squad has more depth than any of the other European nations but will be tested by the visitors. The French are accustomed to keeping a lot of the ball and winning comfortably but Wales has one of the strongest defensive set-ups around.
Chris Coleman's men are superb at defending as a team and have an electric counter-attack that has caused some upsets including a draw against Belgium. It will be a tough examination for both teams but France and its wonderfully gifted attackers (left) should prevail.
Prediction: 1-0
Japan vs Brazil
Prepare for a stunning game of football with a possible surprise result. Brazil has been playing free-flowing football and are widely expected to have a huge victory but this Japan team has lost just once in five games and has been scoring with ease.
The Brazilians will not find it easy but their quality going forward will probably be too much for the tough-to-break down Japanese defence.
Prediction: 1-2
by Nubaid Haroon
YouTube: https://m.youtube.com/channel/UCtMg-fWm7awR41vM1GhVOkA  Twitter: twitter.com/rambofyi